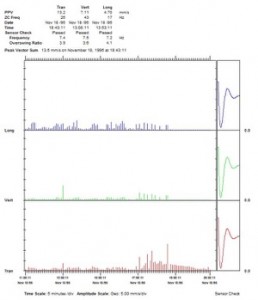 Nothing is more concerning to members of the public than the perception that their house is vibrating, and it is natural to instantly associate cracks in plaster, creaks and other cosmetic damage with the vibration source.
In addition, many critical or sensitive equipment and processes such as steam turbines, photolithography, medical scanners, and high power microscopes have to be protected from damaging levels of vibration.
The most common environmental vibration sources encountered in Ireland are probably piling works, rock breaking, blasting, and heavy manufacturing plant. When these occur in built-up areas it is often vital to have a continuous log of vibration levels, and a visual and audible warning when pre-set trigger levels have been exceeded to avoid the possibility of damage.
Shorcontrol have been monitoring vibration levels, often in conjunction with the piling department in our sister company Trench Control for nearly a decade.
Control risk of damage to buildings, services and plant
Measurement of Vibration Dose Value (vDv) for assessing annoyance potential in buildings, ships etc.
Mathematical prediction of vibration levels for certain scenarios
Familiarity with relevant standards and guidance, BS 5228-2, DIN 4150, BS 7385 etc.
Text alert warning and remote data download for critical applications
Useful Resources and Links: