The ATEX Rechargeable Headtorch is a rechargeable headband lamp approved for safe use in potentially explosive gas, vapour and mist atmospheres. It is the ideal lighting solution for workers in confined spaces and hazardous areas, needing a 'hands free' lamp, which will direct a beam of light wherever they look.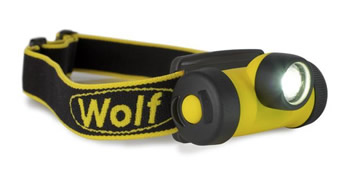 The ATEX Rechargeable Headtorch comprises of a head unit and a battery box joined by a cable, and mounted on an elastic headband. Both head unit and battery box are sealed to IP66, fully weatherproof, and are constructed from high quality impact resistant plastic materials. The lens is tempered glass. The headband is adjustable, for use on a head or a hardhat. Helmet clips are available for hardhat use, as standard, to secure the elasticated straps in place.
The ATEX Rechargeable Headtorch incorporates two light sources, selected using an externally mounted switch. The 1 watt high power LED gives a duration of up to 7 hours. Alternatively, the bright, white LED light source offers energy efficient close-up illumination for up to 48 hours.  The head unit will pivot up or down for accurate beam positioning.
The rechargeable Ni-Mh battery pack is short-circuit protected to intrinsically safe levels, includes deep discharge prevention for increased durability and is safe to be removed and replaced in the hazardous area. The ATEX Rechargeable Headtorch Kit (HT-100K) is supplied with a 100- 240Vac mains charger, fully charging a completely discharged battery pack in less than 3 hours. Alternatively a vehicle charger  is available to charge the battery from a 12-30Vdc vehicle supply.
Technical Specifications
1W beam

Peak luminous intensity for spot beam (approx 4.5º) at 1m, 1500lux

Secondary LED BEAM

Peak luminous intensity

8000 mCd