The Wolflite ATEX Rechargeable Handlamp is ideal for use as a general purpose safety lamp for inspection and work tasks in explosive atmospheres. Rechargeable battery operation offers a convenient and cost effective solution for Ex applications where a handlamp is frequently required for long periods.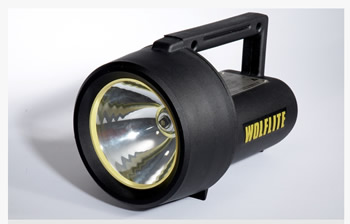 CE marking of the Wolflite Handlamp is in compliance with the 94/9/EC 'Explosive Atmospheres' (ATEX) Directive and the EMC Directive. The H-251A is also certified to the IECEx Scheme and has a Lloyd's and an MCA Type Approval for use in potentially explosive atmospheres in marine applications.
The Wolflite Handlamp offers the same extreme robustness and reliability for use in harsh environments found with all Wolflite Handlamps. The scratch and impact resistant lens is made from 6mm toughened glass.
The outstanding light output is achieved with the use of an LED light source in the H-251ALED giving approximately 50% more light and a three fold increase in duration over the high efficiency halogen bulb fitted as standard with the H-251A. Both are focused  within a 100mm diameter parabolic reflector giving the user an extremely well defined beam of intense white light.
The battery pack, recharged internally within the Wolflite Rechargeable Handlamp, uses the same highly reliable sealed lead acid system as all rechargeable Wolflite Handlamps, but is enhanced with electronic protection and controls. The battery is rendered intrinsically safe by the use of a fast switching short-circuit protection circuit. A low voltage cut-off feature automatically switches the lamp off when all useful battery capacity has been used, protecting the battery from damage through deep discharge. Power-failure mode allows the handlamp to be used as an escape light, automatically illuminating if power to the charger is interrupted.
The Wolflite Rechargeable Handlamp is recharged in the standard Wolflite Lamp chargers, the C-251HV mains charger and the C-251LV vehicle charger.
The handlamp is supplied with a convenient removable shoulder strap.
Technical Specification
Wolflite H-251A/H-251ALED output

Halogen Bulb39 lumen spot beam (approx 4°)

LED 60 Lumen LED spot beam (approx 4°)With wide angle fringe light