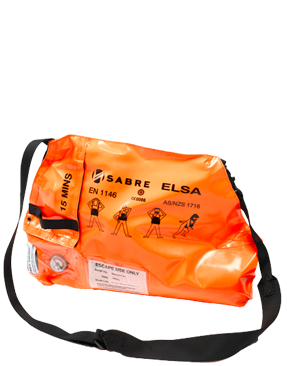 Note: This Product has now been replaced with the Elsa Muster Escape Breathing Apparatus
---
The Sabre ELSA Sprint is a positive pressure escape set providing air on demand for situations where the escape route may require a lot of physical exertion or where the maximum levels of protection are required.
Available with a facemask or positive pressure hood

High visibility or anti-static bag

Tempest demand valve offers excellent flow performance

10 and 15 minute versions of Sabre Sprint are available

CE marked to EN402
It has a 10 minute duration, positive or negative pressure, compressed air escape breathing apparatus. The set comprises of a compressed air cylinder, demand valve, pressure reducing valve, supply hose to Neoprene face mask. All sets are housed in a chest carrying bag. A clear vision panel in the bag allows easy inspection of the contents gauge. Supplied with a certificate of conformity and user instructions.
Facemasks
Lightweight PanaSeal positive pressure facemask approved to EN136 Class 3. Moulded in non-dermatitic Neoprene or silicone and fitted with an optically clear, impact resistant polycarbonate visor. Anti-scratch coating, speech diaphragm and side mounted, quickfit demand valve connection are standard. Supplied with head harness.
Flame Retardant Hood
The high visibility cuboid hood incorporates an optically clear visor to ensure all round vision. An elastometric neck seal ensures easy donning over spectacles, long or facial hair. A small orinasal mask controls the rebreathed CO2.
Demand Valves
Compact, automatic positive pressure, first breath activated demand valve. Unique servoassisted mechanism provides superior dynamic and flow performance characteristics. Quick-fit coupling to mask or hood connection with secondary locking catch.
Cylinder Valve
Manufactured in light alloy and finished with an orange anodised protective coating. The low profile pressure indicator is fitted with a burst disc assembly to protect the valve. An EN144 outlet is fitted with rust tube and manual or automatic valve opening mechanism.
Carrying Bag
Worn in chest or bandolier mode, the high visibility carrying bag is available in flame retardant/chemical splash resistant material or the optional black anti-static material for use in potentially explosive atmospheres.