ATEX JB3/903 SERIES
ADDRESSABLE TOCSIN 750X( D )VERSIONS
ATEX Gas Detector for Advanced Addressable Gas Detection Systems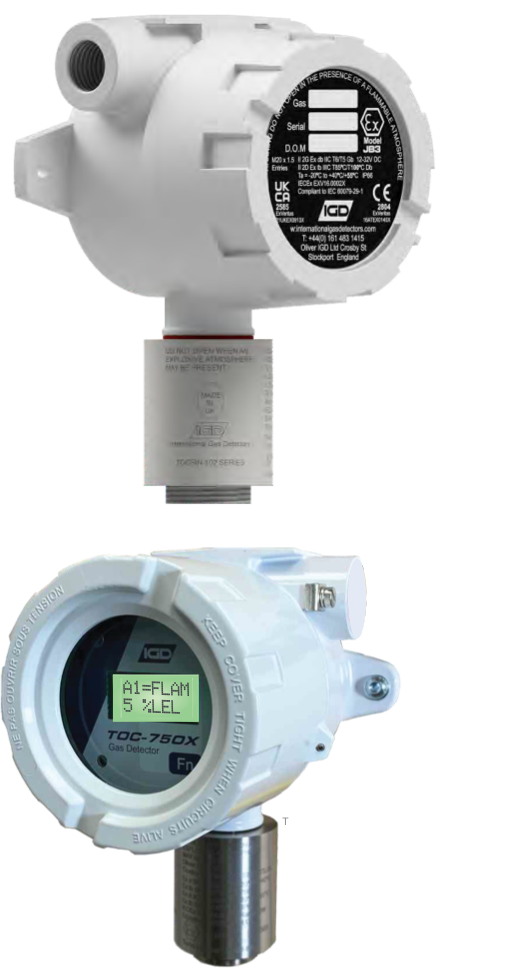 TOC-750X Series gas detectors based on JB3-903 Series product are both ATEX and IECEx approved for use in potentially flammable atmospheres. TOC-750X uses IGD's Sentinel+™ addressable technology, specifically designed for gas detection, fast, secure digital communication. TOC-750X has sensor options using MK3 or 102 series detectors for over 300 gases. Gas types include toxics, flammables, VOC's and oxygen monitoring.
EASY TO INSTALL
ATEX Exd, no barriers to install Just one 2-Core No cable polarity for fast & easy install cable minimising costs.
One-click auto-setup & self check at the controller, ready to use.
SIMPLE SERVICING
Swap a detector and the system automatically register the change.
Swap to a different type or range and the controller will automatically update, type, range and alarm levels.
750XD version available with local display and non-intrusive calibration.
FLEXIBLE
Single cable interconnection to other devices Add or remove devices with a simple Find function to update controller.
Install ancillaries locally to the nearest detector using break out enclosures.
COST EFFECTIVE
Single cable can save you 70-80% install costs Auto setup removes commissioning costs.
REASSURINGLY COMPETENT
Designed and manufactured in the UK by IGD Backup by 10-year Warranty*.
All compliance supported by a third-party certification.
Advanced Addressable 2-Wire Gas Detection System
Using our Sentinel+ ™ 2-Wire protocol, the 750 series detectors communicate over the 2-Core power cable. This drastically reduces cabling costs. This can be by as much as 70-80% compared to current systems on the market. The number of terminations is also reduced improving reliability. Sentinel+™ protocol continuously monitors data between connected detectors and the system controller. Thus, ensuring maximum system integrity and availability. With only two wires for power and communication existing systems can be easily upgraded, using their original cabling, with the option to easily add more detectors and devices required.