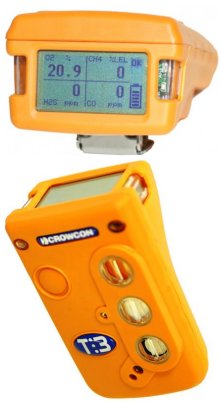 The Tetra:3 multi-gas monitor is a compact, robust and easy to use diffusion based detector.
Single button operation, small size and clear top-mounted display make it a favourite in the market amongst those working in demanding industrial environments such as those in the water, telecoms, food, brewing or hydrocarbons sectors.
Despite its compact size the Tetra:3 is ultra-rugged and water proof.
Some features are;
Up to 4 gases in a small and lightweight design
Infra-red carbon dixoide sensor version for safe area use (ie non-explosion risk areas)
Single button operation for all functions, can be operated with gloved hands
Rugged impact resistant design provides extra shock and vibration protection
Reliable Lithium-ion battery provides over 16 hours continuous operation from a single charge with no memory effects.
Water and Dust resistant to IP67, can be submerged in water
Rapid and effective warning with a 95 dBa audible alarm, an extremely bright red/blue visual alarm and vibrating alarm as standard.
Top mounted, backlit display of all gas readings, diagnostics and battery life.
Gases include the most common four (carbon monoxide, methane, oxygen and hydrogen sulphide), but also an expanded range: ammonia, ozone, sulphur dioxide, H2 filtered CO (for steel plants) and IR carbon dioxide (for safe area use only).