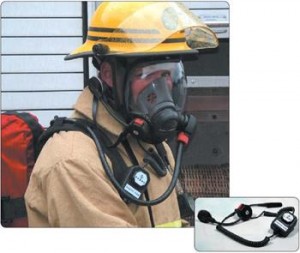 Globally accepted as the benchmark in modular respiratory protection systems, the Protector Tornado range goes from strength to strength.
With the choice of powered filtered air or constant flow airline and a comprehensive range of headtops, Tornado provides the most versatile respiratory solutions available.
T-POWER
Powered Air Purifying Respirator TORNADO The Respiratory System
ERGONOMIC DESIGN – waist mounted lightweight, compact and unobtrusive turbo unit
INTRINSIC SAFETY (I.S.) – anti-static polypropylene construction, suitable for use in potentially explosive gas and dust atmospheres
MODULAR FLEXIBILITY – simple to configure for changes in application using Tor/Adapt filter holders
COMPREHENSIVE FILTRATION – extensive range of filters for the widest range of applications
ELECTRONIC FLOW CONTROL – maintains correct airflow as the working environment changes
INTELLIGENCE – provides clear audible and visual warnings of filter clogging and low battery charge
AUTO HEADTOP DETECTION – instantly recognises headtop type, monitors and optimises airflow accordingly
CHOICE OF BATTERY – weight and duration options
SINGLE OR MULTI-STATION SMART CHARGERS – maintain optimum battery performance
RELIABLE – low through life costs
HEADTOPS
We supply an unrivalled range of headtops for use with this system, called the T-One, T-Two, T-Three, T-Twenty Five, T-Four, Procap Weld, Procap, T-Five, T-Seven, T-Eight, T-Nine and T-Two/AS.
T-A-LINE
Constant Flow Airline Control
LIGHTWEIGHT AND COMPACT – comfortable to wear, contoured waist mounted control unit prevents snagging
AUTOMATIC DEMAND COMPENSATION – maintains optimum airflow to the headtop
LOW FLOW INDICATOR – clear audible alarm
AUXILIARY OUTLET – useful for air tools (e.g. spray gun)
COMBINED ODOUR FILTER AND SILENCER – improves wearer comfort
OIL CONTAMINATION WARNING – visual indication of oil contaminated air supply
FULLY ADJUSTABLE – positions on left or right hip
AIRLINE FILTER UNITS – compatible air filter units for one or two users are included in the range