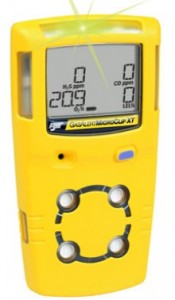 Multi-gas Made Easy  – GasAlertMicroClip XT is a slim and compact portable gas detector that provides a simplified solution to multi-gas monitoring. Offering a winning combination of affordability and ease of use, GasAlertMicroClip XT is able to deliver cost-effective protection from atmospheric hazards in a wide range of applications and industries.
The device is also optimised to deliver guaranteed compliance to the latest standards and regulations required for bump testing, helping to make your site safer.
With easy one-button operation, workers make fewer operational errors and training time is reduced. The GasAlertMicroClip XT uses and easy-to-navigate interface common to previous generation gas monitors from BW technologies. This multi-gas monitor provides continuous visual confirmation of detector operation and compliance with the IntelliFlash™ feature.
The GasAlertMicroClip XT is fully compatible with BW Technologies by Honeywell MicroDock II automatic test and calibration system.
Incredibly thin and lightweight, making it comfortable to wear
Multi-gas versatility with one-button simplicity
Continuous visual compliance with IntelliFlash
Extraordinarily low cost of ownership
Easy to test with MicroDock II compatibility