TOCSIN 750 SAMPLER
Advanced Addressable 2-Wire Gas Detection System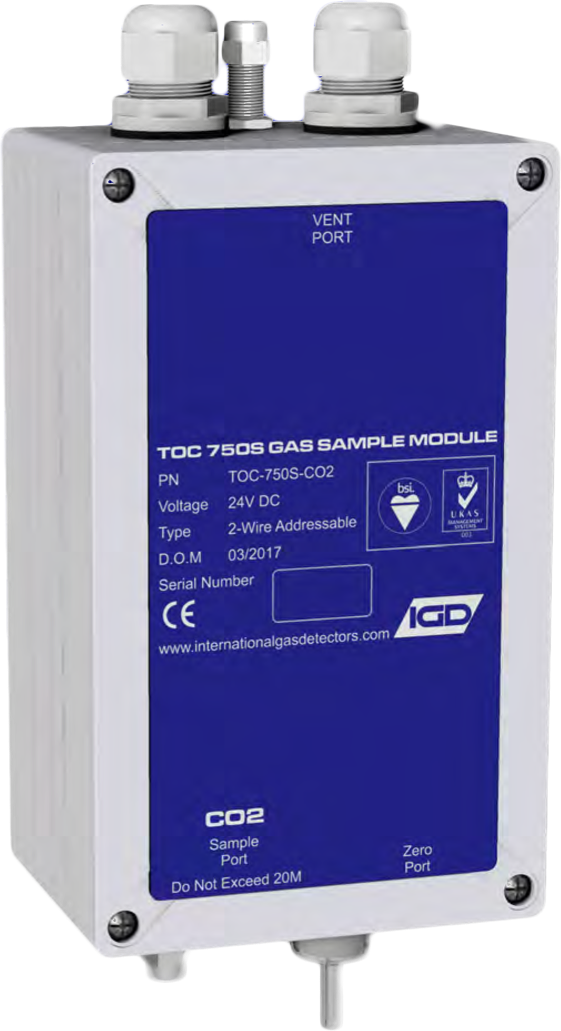 TOCSIN 750S Series are addressable Sampling Gas Detectors. As with all our 2 Wire Addressable devices, these can be added anywhere on an addressable cable run along with ATEX or safe area detectors. Sampling gas detectors allow you to provide gas detection in areas otherwise difficult to access or where the environment is too harsh to fit normal diffusion sensors. Featuring our unique piezo pump technology, our sampling gas detectors have virtually no moving parts and virtually silent in operation. Samplers can be setup to periodically automatically zero themselves (or calibrate in the case of Oxygen sensors). This provides unparalleled zero stability allowing wider ranges with lower alarm points. 
EASY TO INSTALL
Just one 2 Core cable minimising costs
No cable polarity for fast & easy install
One-click auto-setup & self check, ready to use.
PIEZO TECHNOLOGY
Field proven over many years service our piezo gas pumps have virtually no moving parts.
Continuously monitored for performance and flow this system provides increased reliability over conventional pump systems.
Virtually silent in operation these samplers can be fitted at any convenient point.
CONTINUOUS DETECTION
Unlike sequential samplers, TOC-750S continuously samples and monitors the hazard, only pausing for periodic auto zero/cal.
FLEXIBLE
Built in SSR outputs allow for easy integration of local beacon sounders and similar devices.
Sample probes and filters are available to suit sampling from a wide variety of applications including: Freezers, cold stores, valve stations, sumps, glove boxes and more.
REASSURINGLY COMPETENT
Designed and manufactured in the UK by IGD Backup by 10-year Warranty*
All compliance supported by a third-party certification.
TOCSIN 75D SAMPLER
Advanced Addressable 2-Wire Gas Detection System
The Sentinel + TM 2-Wire technology is an advanced digitally communicating gas detection system from IGD. The system provides fast efficient error free performance specifically designed to meet the unique requirements posed by gas detection hazards. The system provides ultimate flexibility to link your gas detection system to provide alarms, interface to plant shut down hardware and communicate clearly to BMS and similar systems. 2 Core cabling for both power and communication with no polarity requirement means cabling is minimised, reducing system costs with no compromise. 
FEATURES 
Auto Zero / Cal 
Constant Flow Monitoring With Low Flow 
Protocols 
1.0 to 1.5L/Min Sample Rate 
4 off SSR Outputs