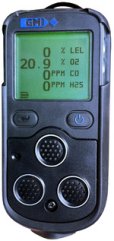 A robust and accurate portable gas detector, the Personal Surveyor (PS200 Series) provides unrivalled protection in confined space applications with audible and visual alarms in the event of exposure to flammable or toxic gases.
Detecting and displaying up to 4 gases simultaneously, PS200 is suitable for a host of applications in a variety of industries.
Pre-entry checking can be carried out with the optional internal sampling pump, and diffusion operation ensuring maximum battery life in confined spaces.
Features include
Simple 1-button operation
Measures up to 4 gases(LEL/O2/CO/H2S)
Audible, visual and vibrating alarms
Internal pump (optional)
Lightweight
Sensor integrity checking
Robust construction
Ease of maintenance
Applications For Use
Personal safety in confined space – LEL/H2S/O2/CO hazards
General safety in confined space
Shipping – general
Shipping – fumigant
Breweries
Plant shutdown
Permit to work systems
Pressurised tunnelling
Fleet auxiliary