Shorcontrol provides a range of  breathing-air systems which are completely self-contained, fully mobile and specially designed to provide safe respiration for operatives working in hazardous atmospheres such as occur in the nuclear, petrochemical, pharmaceutical and other industries.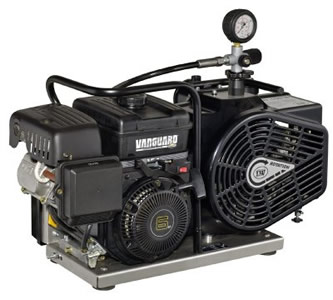 The Lenhardt & Wagner LW100 series of compressors combines reliability, capacity and mobility in 3 models for different  applications. Filling logistics for fire & safety breathing air sets, air for diving cylinders when and where you want to dive, supporting emergency escape equipment on ocean going vessels, just some of the applications served in these compact high quality units.
Lenhardt & Wagner is the only high pressure compressor manufacturer to cast the cylinders and crankcase in one piece.
Advantages:
• High degree of precision as all the cylinder and crankshaft bores are machined in one process
• No possibility of leaks between cylinders and crankcase, less gaskets
• Efficient heat dissipation and reduced deformation for less wear
• Replaceable cylinder sleeves
Features and benefits:
Hardened cylinder sleeves
The Aluminium casting is equipped with 3 steel cylinder sleeves, hardened for long life and consistent high performance
All pistons with metal piston rings
The pistons are all equipped with metal piston rings for high sealing performance and durability even when working under extreme conditions and high operating temperatures. Steel piston rings continue to function where synthetic rings fail
Stainless steel frame
The stainless steel frame gives excellent stability and protection to the complete compressor. The frame design allows simply changes between drive motors. A specially designed screw makes tensioning the drive belt quick and simple
Precision machined suction/pressure valves
The combined suction/pressure valves with stainless steel valve plates have been specially designed and tried and tested for reliability and performance over a long life expectancy
Efficient cooling for extended filter life
The inter-stage and final coolers are designed for optimum cooling and manufactured from non corroding material. The inlet temperature to the filter is only 6°C higher than the ambient temperature (at 20°C), which considerably extends the life of the filter cartridge and reduces running costs. The excellent cooling increases the filter life by min. 46% compared to similar models
Integrated carrying handles
Ergonomically designed carrying handles allow easy transport and loading into vehicles or onto vessels. The carrying handles also protect the upper components of the compressor.
Integrated filling hose
High quality filling hose with stainless steel ends, filling valve and pressure gauge. The filling connection is DIN/Yoke for 200/232 bar versions and DIN for 300 bar versions. The compressors can also be equipped with a dual pressure (200/300 bar) module if required.
For Further Information contact Shorcontrol Safety – Tel:045 898198 or Email: info@safety.ie