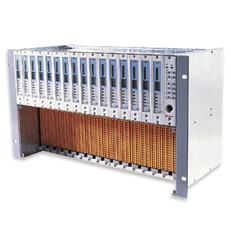 System 57 brings future thinking to a new generation of gas detection, alarm and control applications. In the new world of intelligent gas detection system management, System 57 takes control.
System 57 rack units provide mounting options for the System 57 channel control cards and interface cards. The racks are available complete with a DC input card and an engineering card.
System 57 control cards provide display and alarm facilities for the full range of gas detectors. Their concise, backlit, multi-part display shows the gas reading and status in both analog bargraph and digital numeric forms. In addition, there is an alpha-numeric message section to give sensor (and engineering function) status.
Control Cards
3 levels of alarm
Individual, zoned, voted, master, time delayed, update and rate of rise alarm facilities
Clear 4 part display
Peak reading capability
Sensor performance monitoring
5701 Control Card
Independent single channel operation 
Plug-in input and output options
5704 Control Card
4-Channel operation 
Choice of output options
Channel displayed: automatic sequencing, highest reading or combination or manual channel display selection options
Engineering Card
Security protected 
User friendly operation
Calibration facility
Command accept/abort facility
Channel card set up capability