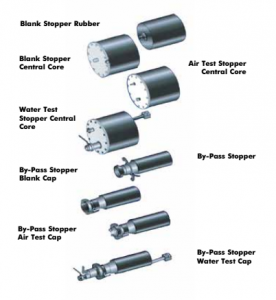 The Vetter stopper is a durable expandable pipe stopper which will withstand a maximum back pressure of 0.5 bar or 5 mtr head of water. The maximum inflation pressure is 1.5 bar (21psi). Inflation is by foolproof safety controller which is fitted with pre-set and sealed pressure regulating valves, preventing over inflation, and allowing remote operation. Air can be supplied from a hand pump, site compressor or compressed air cylinders. Vetters are available as blank plugs or bypass stoppers. Stoppers should be suitably mechanically braced to sustain the anticipated pipeline pressure load.
Blank plugs: The large sealing range of the stoppers and the ability to inflate remotely make it easy to seal flowing pipes quickly and reliably when adequately braced.
By-Pass stoppers: These BP type hollow core stoppers are suitable for many different applications including water testing, over pumping, flow by-passing a leak location, when the relevant connector/fitting is attached.