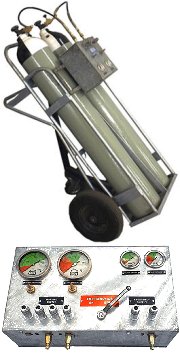 The Air Trolley set is a portable system holding breathing air cylinders. These are connected to an integral control panel which supplies air to airline breathing apparatus. All air systems are CE marked to EN139
The Two man air trolley set is ideal for circumstances where compressed air cannot be supplied by other means. A system comprises a cylinder frame with wheels and handle, filter unit and a hose reel with 30 metres airline hose. The air trolley holds two 52 Litre cylinders, compressed to 200 bar giving each cylinder 4 hours of air.
Both trollies utilise the standard control panel with or without the emergency section. This panel is fitted with cylinder contents and line pressure gauges and has pneumatic warning whistles for low cylinder contents and low outlet pressure. A Diktron audible and visual electronic alarm can be fitted if required.
The Control Panel is designed to reduce the air pressure from high pressure storage cylinders to supply airline breathing apparatus. The panel can be used in airtrailer or trolley applications or can control a bank of breathing air cylinders supplying a fixed breathing air system. The panel is divided into two separate but interconnected sections. There are 3 high pressure inlets to the working section, which has 2 parallel pressure reducing valves of a failsafe no diaphragm design.
Each inlet supply is fitted with a non-return valve to prevent the storage cylinders equalising pressures and to isolate each supply in case of air loss from a supply line. The non-return valves allow cylinders to be systematically replaced whilst the panel is still in use without interfering with the supply from the other cylinders.
Training 
The 'Use of Full Breathing Apparatus' Training Course – A one day course in the full use of working breathing apparatus is available. Contact our training division on Tel: 045 898198 or Email: info@safety.ie