Tractel Tracpode Confined Space Tripod (inc Pulley Kit)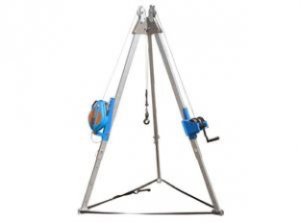 Tractel "Tracpode" Aluminium Tripod available with 20m or 30m maximum working height. 1.76m to 2.70m Tripod height positions
The Tracpode™ is designed to be used temporarily by one or two persons to access confined spaces. It is made of aluminium and its light-weight design (18 Kg) makes it easy to transport. The height of the Tracpode™ confined space tripod is adjustable by its extending legs which can be adjusted to six positions.
– Manriding (suspended access) when winch is used in conjunction with backup Recovery Inertia Reel
– Height : min. 1.78 m max. 2.73 m
– Width : min. 1.30 m max. 1.87 m
– Weight : 17 kg.
– Adjustable telescopic feet with pivoting sole plate.
blocfor™ Recovery Inertia Reel
– Complies with EN 360 and EN 1496 class B Standards.
– Automatic fall protection device with integrated winch for ascent or decent during a possible rescue operation.
– Available cable length of 20m or 30 m.
caRol™ + console
– Emergency winch.
– Lifting material winch.
– 250 kg capacity.
– 5 mm ø cable length available in 20 m and 30 m.