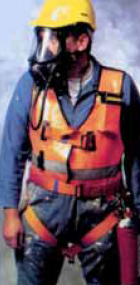 Flite is a positive pressure airline breathing apparatus with the option of a 10 or 15 minute compressed air cylinder supply for escape from the most hazardous environments.
The apparatus features an adjustable webbing bandolier, as well as an optional hip mounted cylinder, for access and manoeuvrability in the smallest of spaces.
Flite has been engineered for robustness and has been proven in some of the most arduous working environments, including off-shore oil and gas production. Flite does not come with a face mask and these are shown as options.