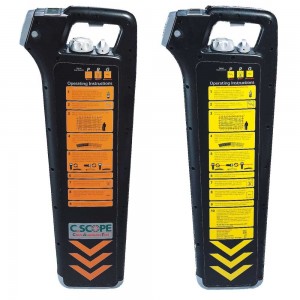 The C.Scope Cable Avoidance Tool (CAT) is the classic, industry standard Locator to use to determine the exact location of buried pipes and cables immediately prior to any form of excavation work taking place.
The C.Scope Cable Avoidance Tool has three classic detection modes each with their own unique advantages:
The POWER mode is the quickest way to detect most buried electricity cables by detecting the signal created by the electrical current itself.
The RADIO mode detects re-radiated "radio" type signals that are often present on metal pipes and cables allowing their position to be determined using just the Cable Avoidance Tool alone.
The GENERATOR mode is used to detect the signal applied to a metal pipe or cable by a C.Scope SGA or SGV Signal Generator. In addition the Generator mode can be used to detect the signal being transmitted by a C.Scope Sonde for non-metallic pipe tracing.
The DXL2 is a new ultra modern and high performance Cable Avoidance Tool with Depth Measurement that has been designed to set a new benchmark in excavating safety as well as still delivering all the advantages and familiar operating practices associated with the original C.Scope product range. The DXL2 is loaded with new features which enable operators to find more buried utilities by delivering improved levels of performance and helping to reduce the effects of human error.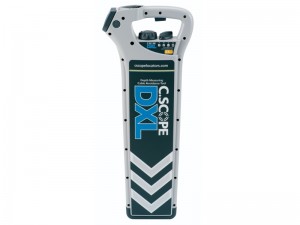 The DXL2 Cable Avoidance Tool is driven by powerful Digital Signal Processor Technology. Advanced software programming enables the new products to provide outstanding detection performance even when locating in the most difficult areas. The DXL2 delivers improved signal detection sensitivity and better noise rejection so the locator is capable of detecting the smallest of signals even in areas of high service density and electrical noise. The addition of the new simultaneous dual 33+131kHz frequency will assist in the detection of smaller buried pipes and cables such as telecoms, sheathed fibre optics and streetlighting spurs.
The DXL2 has four detection modes to select from each mode providing it's own specific advantages:
POWER mode identifies buried electricity cables by detecting the mains frequency signal travelling along the cable itself, when current is being drawn.
RADIO mode detects re-radiated 'Radio' type signals that are often present on metal pipes and cables.
GENERATOR mode is used to detect the 33+131kHz signal applied to a a pipe or cable by a SGA2 or SGV2 Signal Generator. The combination of a high frequency with the 33kHz signal enables small diameter cables to be located more easily. The Generator mode should also be used when detecting the signal from a C.Scope Sonde when tracing in non metallic pipes such as plastic and clay.
ALLSCAN mode detects ALL frequencies of signal from the lowest of the Power signals right up to and including 33kHz. This mode can detect unusual signals appearing in the frequency gaps between conventional Power, Radio and Generator modes and is invaluable as a 'final check' before excavation.
Power Mode.
Radio Mode.
Generator Mode – Combined 33+131kHz frequency detection improves utility detection.
All Scan Mode.
Accurate Depth Indication
Automatic Noise Rejection.
Dynamic Swing Sensor.
Automatic Daily Self Test.
Optional Data Logging of all Locator activity.
Optional BluetoothTM for high accuracy GPS.
High resolution Liquid Crystal Display.
No Calibration checks required.
Three year Warranty (Conditions apply).
Human error can be a contributory factor associated with cable strikes. To address this issue, intelligent features such as an Automatic Daily Self Test function and a dynamic Swing Sensor help ensure that best working practices are adhered to and being applied on-site. The Data Logging option can also provide an invaluable insight into working practices and help to identify potential training requirements.
The new DXL2 offers a significant step forward in the quest to reduce the day-to-day risk of cable strikes.