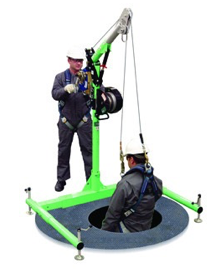 Portable and permanent Davit Arm/Base assemblies are a versatile alternative to a tripod designed for manhole and confined space entry/retrieval applications. Units are constructed from lightweight materials including high-strength aluminum. Davit pivots for ease of rescue and has a limited adjustment for overhead clearance. Lower bases adjust to fit most standard entries. Other permanent and portable bases are available. Contact Shorcontrol Safety for information regarding the full line of Davit arms, bases and accessories.
5-Piece Hoist System comes equipped with 111/2 -in to 271/2 -in (29.2 cm to 69.9 cm) or 231/2 -in to 421/2 -in (59.7 cm to 108 cm) adjustable offset mast, 30-in lightweight lower mast and 3-piece lightweight base.
Davit Arm (8516693)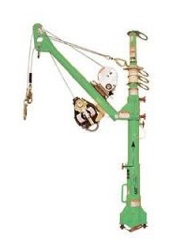 Davit Arm for UCL Advanced Series Portable Fall Arrest System (PFAS)
Features:
Designed for use with Advanced Series Portable Fall Arrest Post
Powder-coat finish for durability
Davit arm ideal for rescue with 360 degree swivel
Quick-attach design assembles easily to portable fall arrest post – no tools required
Lightweight aluminum construction for easy transportation and set-up
Has 3 optional pinning points that adjust the range of height and offset
Offers a maximum working height of 71″ and a maximum offset of 34″
Two pulley blocks for top and/or bottom winch mount to davit arm
Weight: 20.50 lbs (9.3 kg)
NOTE: The Rescue Davit Arm works in the 2nd and 4th
positions only.
1 Pc 12-29″ Adjustable Offset Mast (8518382)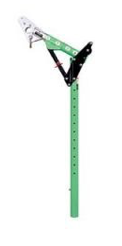 UCL Advanced 1 Piece 12″ to 29″ Adjustable Offset Mast, Anchor Point Height 66″ to 76″
Features:
Designed for use where multiple offset masts are required
Compatible with UCL Safety Systems Advanced Lower Masts, Mast Extensions and bases
Variable Offset Masts may be equiped with front mounted and/or back mounted winches
The addition of the quick-release pin allows for easy collapsibility and transport
Weight: 13.0 lbs (5.9 kg)
Similar model:
8518383: 12″ – 29″ Adjustable Offset Mast, Anchor Point Height 78″ – 88″
8518384: 12″ – 29″ Adjustable Offset Mast, Anchor Point Height 90″ – 100″
8518385: 30″ – 48″ Adjustable Offset Mast, Anchor Point Height 69.5″ – 87.5″
8518386: 30″ – 48″ Adjustable Offset Mast, Anchor Point Height 81.5″ – 99.5″
8518387: 30″ – 48″ Adjustable Offset Mast, Anchor Point Height 93.5″ – 111.5″
Advanced 3 Pc Expandable Base Assembly (8518005)
Advanced Series Base Assembly for UCL Advanced Breakdown Base, Max 30″ Offset
Features:
Constructed of powder coated aluminum
Maximum 30″ offset
Has adjustable aluminum screws
Built-in level indicator for easy set-up on uneven surfaces
Disassembles & collapses into 3 lightweight components for transport & storage
No tools required for easy addition to davit system
Similar model
8518008: Max 48″ Offset
Adjustable Barrel Mount Sleeve (8512285)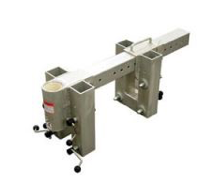 Adjustable Barrel Mount Sleeve with 24″ Max. Opening (Anodized Aluminum)
Features:
Lightweight mounting sleeve for portability
Designed for shoring, wall and parapet applications where frequent set-ups have varying wall thicknesses
Adjustable sleeve accommodates wall thicknesses up to 24″
Easy set-up
450 lb capacity
Provides 360 degree mast rotation
Designed for use with Advanced Series davit system
Anodized, welded aluminum construction with zinc-plated steel hardware
Weight: 56.0 lbs