TOCSIN 750B SERIES
SAFE AREA GAS DETECTORS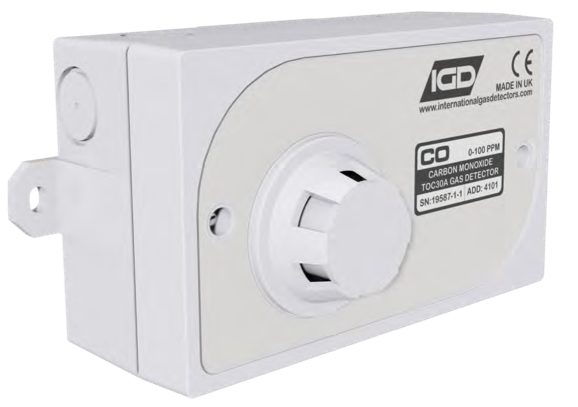 Advanced Addressable 2-Wire Gas Detection System 
Tocsin 750 series addressable safe area gas detectors are next generation technology in gas safety. Utilising our ground breaking Sentinel+ TM communication, all detectors are connected on a single 2-Core cable for both power and communication. The system ensures safety without compromise at reduced cost. Detector nodes have their own 1/0 capability provide distributed control and data just where needed. 
Our 750 safe area gas detectors have sensor options for over 400 gases and vapours, making it the most versatile sensor on the market. 
EASY TO INSTALL
Just one 2-Core cable minimising costs
No cable polarity for fast & easy install
One-click auto-setup on controllers & self check, ready to use
SIMPLE SERVICING
Hot-swap detectors for exchange without engineer cost
Auto-detect on sensor change, automatically updates:
Ranges
Gas Type and
Alarms.
FLEXIBLE
1/0 Points included on each detector, easily control external devices; valves, beacon­sounders or input 4-20mA signals with minimal extra wiring.
REASSURINGLY COMPETENT
Designed and manufactured in the UK by IGD Backup by 10-year Warranty*
All compliance supported by a third-party certification
TOCSIN 750 SERIES
Advanced Addressable 2-Wire Gas Detection System 
The Sentinel+ TM 2-Wire technology is an advanced digitally communicating gas detection system from IGD. The system provides fast efficient error free performance specifically designed to meet the unique requirements posed by gas detection hazards. The system provides ultimate flexibility to link your gas detection system to provide alarms, interface to plant shut down hardware and communicate clearly to BMS and similar systems. 2-Core cabling for both power and communication with no polarity requirement means cabling is minimised, reducing system costs with no compromise. 
Advanced Addressable 2-Wire Gas Detection System 
Our 750 addressable safe area detectors have multiple input and output options on the actual sensor. This means one detector can control up to 7 other devices including but not limited to: other gas detectors, slam switches, beacon sounders, gas supply valves, analogue devices (third party included), displays and much more. Thus, providing you with a versatile detector, reduced installation and cabling requirements and much needed distributed control without the need for expensive 1/0 cards.