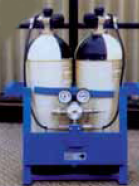 A portable rescue airline system for use with cylinders where short duration airline work is necessary.
These portable trolley units are particularly appropriate where constant, medium term breathing protection is required, especially in restricted or difficult to access areas where a self contained set would be too restrictive and/or generate too much fatigue.
It can be set up for one or two operators and will be supplied with up to two hip mounted airline escape sets featuring a whistle warning unit, a quick release hose coupling and a reserve cylinder.
Outgoing hose distribution is controlled via a braking system in order to prevent unnecessary winding and potential entanglement.
50 metres of antistatic hose

If set up for two operatives it is then also supplied with a Y piece connector to connect the 50m hose to two further 10 metre lengths of anti static hose so each operator has unrestricted movement

Supplied complete with two 9 litre 207 bar cylinders which gives one user an optimum working time of 90 minutes without a cylinder change

Cylinders rotation exchange by the Top Man can occur whilst in use to enable continual supply

Additional Cylinders available

Low pressure warning whistle on trolley and escape sets.

Trolley can be easily repositioned on site.