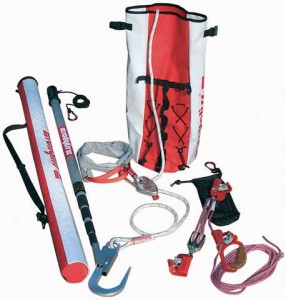 Although available for use for rescue professionals, the Rollgliss® rescue kit has been designed as a peer rescue system for use in industrial environments. The kit has been designed specifically to enable a rescue to be performed by a person or persons where rescue is not part of their normal job function. It is to be used by the rescuer(s) to remove a person from danger without putting themselves at risk by descending to them.
Unlike many rope rescue systems, the Rollgliss® rescue kit does not require complex knots to be tied or improvised haul systems to be set up. The use of knives is also not required to remove the casualty from their existing fall arrest system, making the system even safer. Most importantly, the user canMost importantly, the user can either be raised OR lowered to safety.
Kit Components
This rescue kit is a system for performing a rescue of someone suspended at height.
The kit includes the following components:
1 x Rollgliss® Lory R50 descender with carabiners, rope and safety hook
1 x Extension pole
1 x Rollgliss® minihaul system
1 x anchorage strap x carry bags (1 for the pole and 1 for the remainder of the kit)
1 x usage instructions