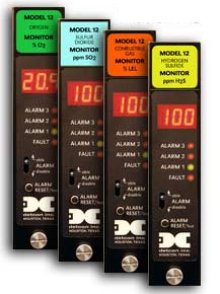 This is a single channel digital control module, designed to supervise and display the status of a single remote sensor assembly. Modules are available for a variety of toxic and combustible gases and are compatible with a complete line of Detcon enclosures and mainframe hardware assemblies.
Three digit indicator serves as both a power on indicator and a direct reading display of the gas concentration. The display will also flash on and off during any over-range condition.
Alarm set points are dip switch adjustable in 1 ppm/% increments across the range of detection. Programmable jumpers allow for several user selectable alarm options.
The fault alarm, depending on the jumper programmable configuration, will activate on loss of power, internal power supply fault, open circuit in field wiring, open heater/bridge in sensor, or during an alarm disable condition.
The alarm disable function inhibits alarm relays (Alarm 1, 2 and 3), but leaves alarm LEDs active. The alarm disable function will also activate the fault LED and relay, however, no other Model 12 functions are affected. The toggle type switch is inset slightly behind the front panel in order to prevent accidental disabling of the channel.
The alarm reset switch resets alarms that have been jumper programmed latching. It also acts as a test switch to activate several microprocessor supervised test functions.
Modular plug-in design
4 to 12 channel packaging: NEMA 1, 4X, and 7
Compatible with PLC's, SCADA, DCS
Outputs: 4-20 mA, RS-485, and 3 alarm relays
Status and parameters accessible via RS-485
Programmable relays standard (3 alarms + fault)
Five year fixed-fee service