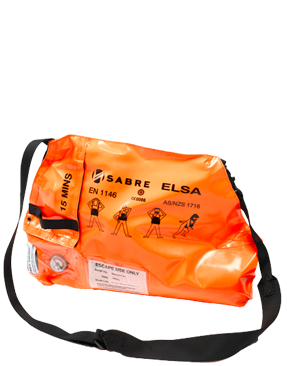 The new ELSA is the third generation of this popular product. This latest version reflects the original concept due to its simplicity and robustness combined with performance to the latest European standard EN1146. The ELSA reflects Sabre's stated philosophy of producing products which customers wear by choice, not just by necessity.
The Sabre ELSA comprises a compressed air cylinder with combined cylinder and pressure reducing valve, supply hose to air hood and stowage bag. The new, unique hood design provides new labels of comfort and peripheral vision. The new valve design incorporates some of the best design features from the Sabre range of the breathing apparatus for new levels of performance and reliability. The apparatus is available in either 10 or 15 minute durations and is CE marked to EN 1146.
Benefits
The Sabre ELSA-10-B Escape Set has a constant-flow air supply which is ideal for inexperienced wearers.
Automatically activated 

Excellent peripheral vision 

10-minute cylinder duration 

Pressure contents gauge 

Warning whistle 

Transparent window for ease of inspection 

7 approval EN1146