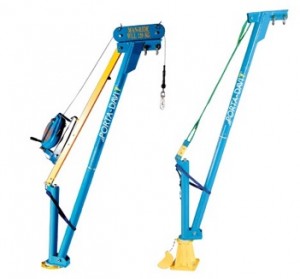 PORTA-DAVIT WLL 500kg
With a safe lifting capacity to WLL 500kg and weighing just 24kg, the PORTA-DAVIT 500 is a truly innovative one person 'pick up and go' lifting solution with capability for both goods and personnel lifting.
Supplied as a two piece, bagged davit jib crane, PORTA-DAVIT 500 can be personnel lifting rated and is available in a number of height/reach configurations. Fitted to easily be used with the PORTA-BASE for your convenience.
Porta Sockets & Accessories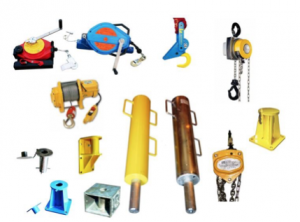 REID manufactures a range of supporting products to accompany its core range, each of which is tested to the required WLL of the product it is designed to work with. For example, our standard sockets, sleeves and socket extensions for the PORTA-DAVIT and T-DAVIT product families are tested and certified to WLL 500kg for the PORTA-DAVIT 500 and T-DAVIT 500 and to WLL 1000kg for the PORTA-DAVIT 1000. PORT-DAVIT 500 sockets will NOT support the PORTA-DAVIT 1000 davit family. Customised sockets can be developed for specialist requirements.
REID Lifting strongly recommends the use of overload protection devices to prevent overloading of the lifting system during operation.
For example, we supply the YALE 360 overload protection chain hoist system from Columbus McKinnon  across all our product ranges from WLL 500kg to 5000kg, the overload protection capability protects the lifting system, sockets and lifting gear from excessive forces that may be applied during wet lifts or other lifting challenges where the load on the system may be grater than the weight of the item, or the mass is not known. More importantly the operator is also protected from any consequence of an overloaded lifting system.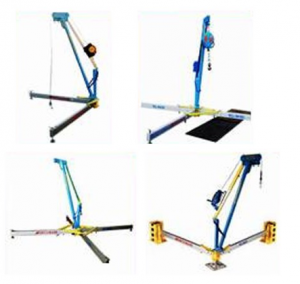 Porta-Base
PORTA-BASE is our flexible, portable socket base for the PORTA-DAVIT 500kg jib crane system with goods and personnel lifting capability. The ultimate in convenience, it removes any need for a fixed socket installation, allowing users to take advantage of the PORTA-DAVIT's WLL 500kg or WLL 120kg for personnel lifting.
PORTA-GANTRY RAPIDE
The easy-to-transport, mobile lifting gantry, PORTA-GANTRY RAPIDE adds exciting new dimensions to the PORTA-GANTRY family, as a unique rapid deployment system with goods and personnel lifting (man-ride) capability with full EN795 Class B certification.